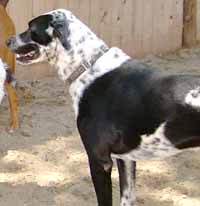 We are located at 70 Newburyport Turnpike, Route 1 South in Rowley, Massachusetts.
From the south: just past Winfrey's Candy, on the left side. (If you pass MacDonald's, you've gone to far.)
From the north: less than one mile south of the Agawam Diner on the right side. (If you pass Winfrey's Candy, you've gone too far.)
Look for a green house — it's our "dog house" — with the fence in front . Our red and white sign is at the driveway entrance.
Or call us: 978 500-0321