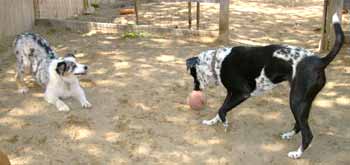 Doggie day care offers a variety of options and services for you and your dog.
The first, most important step to take is to make sure that you and your dog thoroughly check out prospective day care facilities before you decide.
A good daycare program provides your dog with
physical and mental stimulation
continual socialization
free, safe play area
a quiet, comfortable resting area
plenty of water and snacks
knowledgeable, experienced supervision
And for you, a good daycare program provides
peace of mind
a guilt free alternative
a tired, happy dog at the end of the day.
Dogs get bored without regular mental and physical stimulation. Being pack animals, they do not like to be confined or away from those they love. Dogs who feel abandoned during the day often demonstrate negative behavior due to boredom, loneliness and anxiety.
A good day care program diminishes problem behavior for most dogs. It continually teaches social skills. And it provides the mental and physical stimulation that your dog needs.
At the Dog Stop, we take day care one step further. Our indoor/outdoor facility allows dogs the freedom to play, nap, wrestle, and dig as they please. And of course, with plenty of caring supervision.